Nominations: Nicky Dickinson & Sarah Fitzgerald
Verlingue has just welcomed 2 new employees. With many years of experience, Nicky Dickinson and Sarah Fitzgerald bring their knowledge and energy to the achievement of Verlingue in Great Britain.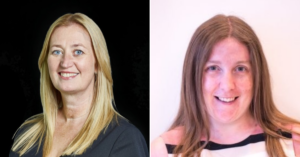 Nicky Dickinson joined us in Manchester as Head of Human Resources this week. During her 30 years of experience, much of it in leadership positions, she has worked in a variety of industries, developing considerable expertise in developing HR strategies in rapidly evolving professional services environments like ours. Elle a passé les 5 dernières années en tant que responsable des personnes et de la culture pour Car Benefits Solutions Ltd.
Nicky has many professional qualifications, including as a qualified coach, mentor and mediator. She also led her previous organisation's ESG activities and won the We Invest in Wellbeing Silver Award and the Investors in People Gold Award.
You can also contact Nicky via email using nicky.dickinson@verlingue.co.uk or on her mobile which is 07719 053 537.
Sarah Fitzgerald joined us on December 1, 2022 as Account Manager – RMP. She joined Verlingue to build a Risk Managed Practice in the field of Key Accounts. Previously an Account Executive at Lockton and Gallagher, Sarah has 25 years of experience and knows what great customer service looks like and aims to take it to the next level. In particular, Sarah has worked with some of the largest clients in the London market, specialising in designing and managing global programmes focused on "difficult territories".  It also implemented the first local policy in Myanmar in collaboration with Zurich, multimodal transport in Colombia and the largest steel merger in Europe.
By joining us, Sarah aspires to become a market-leading expert in global programs, mergers and acquisitions, refinancing and contract review.
You can also contact Sarah via email using sarah.fitzgerald@verlingue.co.uk or on her mobile which is 07719 053 663.